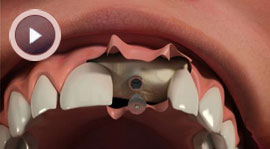 Dental implants are a permanent solution for one or more missing teeth. As the population in general lives longer, there is an increasing demand for tooth replacements. Dental implants have several benefits over other solutions, not least because they are the only tooth replacement products that integrate with the bone and help to prevent bone loss.
Losing one or more teeth can cause social embarrassment, making you hide your mouth when you smile and laugh. Missing teeth can also cause problems with biting, chewing and speaking, and any remaining teeth can become crooked over time as they move into the gap. As time passes, the bone beneath missing teeth also starts to degenerate, which can cause a sagging appearance to the face.
A dental implant is essentially a substitute for a natural tooth root. It is made of titanium and is screw or cylinder shaped. Dental implants are placed directly in the jaw bone with a minor surgical procedure. The bone gives the implant an instant stability, which increases over time as the bone grows into microscopic roughness on the implant surface. Replacement teeth in the form of crowns, bridges or secured dentures can then be attached on top.
At Croydon Dental Care, all of our implants are placed by Dr Uday Patel, who has a passion for advanced Cosmetic and Restorative dentistry along with a special interest in Implantology.
In many cases it is possible to place dental implants at the same time as a failed tooth is removed.
Each implant is placed into a socket carefully drilled at the precise location of the intended tooth. Often the implant can be placed at the same time as removal of the tooth all on the same day. Integration with the bone takes a few months, during which time you may have a temporary crown, bridge or denture fitted. Once integration has taken place, your permanent replacement tooth or teeth will be fitted.
Uday is also experienced in carrying out bone grafts and sinus lifts for patients who lack the bone density to have implants without additional treatment. Therefore, even if you have been told by another dentist you are not suitable for implants, it is worth booking a consultation with Croydon Dental Care.