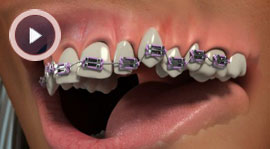 Orthodontics is the dental specialism that focuses on the alignment of teeth. Using products such as braces and aligners, orthodontics involves diagnosing and treating crooked, crowded and protruding teeth, problems with your bite (how your teeth meet together) and poor jaw alignment.
Many people think that orthodontics is just for children and teenagers, when it is common for braces to be prescribed. However, at Croydon Dental Care, our orthodontist Jayneet Patel provides orthodontic treatment for patients of all ages, with discreet brace solutions available for many cases.
Problems with the alignment and positioning of your teeth can lead you to be embarrassed about your smile. As well as these aesthetic concerns, orthodontic problems can also affect how your bite and chew food, impacting on your general health as it may restrict your diet. It is also often awkward to clean crowded or misaligned teeth properly, which can lead to a build-up of plaque and an increased chance of other dental health problems including tooth decay and gum disease.
Think orthodontics and many people imagine metal wire and bracket braces, often known as "train-track" braces. The thought of wearing these may put adults off seeking orthodontic treatment. However, there are now many discreet options available.
Lingual braces
Lingual braces act like standard braces, but are attached to the back of the teeth instead of the front, meaning nobody need know you are wearing them. These can be used to treat a wide range of orthodontic conditions in patients of all ages.
Invisalign

Invisalign is a clear aligner that works by gently moving your teeth into a new position. The aligners are bespoke to fit your mouth, and you will need to change your aligner every few months as your teeth move. Special computer software enables you to see what your teeth will look like at the end of treatment. The aligners can be removed to eat and to clean your teeth.
Inman Aligner

The Inman Aligner is a fast-acting clear aligner uses titanium springs and bows to move your teeth into a new position. Typical treatment time is between six and 18 weeks because the spring and bow system utilises gentle forces to move your teeth. It can be removed for eating and to clean your teeth, and is clear so is highly discreet.
Orthodontic treatment is only available to private patients, and patients will need to travel the short distance to our sister practice, Park Dental Clinic, to visit our orthodontist.