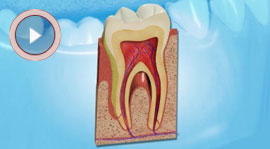 Gum disease is one of the leading causes of tooth loss for adults in the UK. It is a very common condition, and the quicker it is diagnosed, the easier it is to treat, thus the less risk you have of losing your teeth.
At Croydon Dental Clinic we screen for gum disease as standard as part of your routine dental check-up. You may, however, have noticed some symptoms before you come to see us at the practice, so please let us know if this is an area of concern.
There are two main forms of gum disease, gingivitis and periodontitis. The majority of people will suffer from gingivitis at some point in their life, with factors such as smoking increasing your chances of experiencing the condition. The good news is that it can usually be easily managed, so long as you seek early treatment.
Symptoms of gum disease
The early stages of gingivitis do not usually cause pain. However, there are some symptoms to look out for:
Bleeding gums, which may cause blood on your toothbrush or in the sink. You may also notice some blood when you bite hard foods, such as apples.
Swollen gums
Bad breath or an unpleasant taste in the mouth
Sore gums and an abscess/pus around the gums if left untreated
If the condition develops into periodontitis, you may also experience:
Painful, swollen gums
Gums that are tender when touched/brushed
Bright red or purple coloured gums
Gums that recede to expose more of your teeth
Teeth becoming loose or wobbly
Dental abscess
Gum disease is caused by a build-up of plaque bacteria on your teeth. At your dental check-up we will assess your gingival condition and, if we discover gum disease, will give your teeth a thorough clean, either with the dentist or the hygienist, depending on the severity of your condition. We will also provide you with home care advice, including brushing techniques and the use of special products such as interdental brushes, and emphasising any problem areas.
More complex cases may require further treatment if there has been damage to the underlying bone or the teeth. Your dentist will discuss this with you as part of your treatment plan.